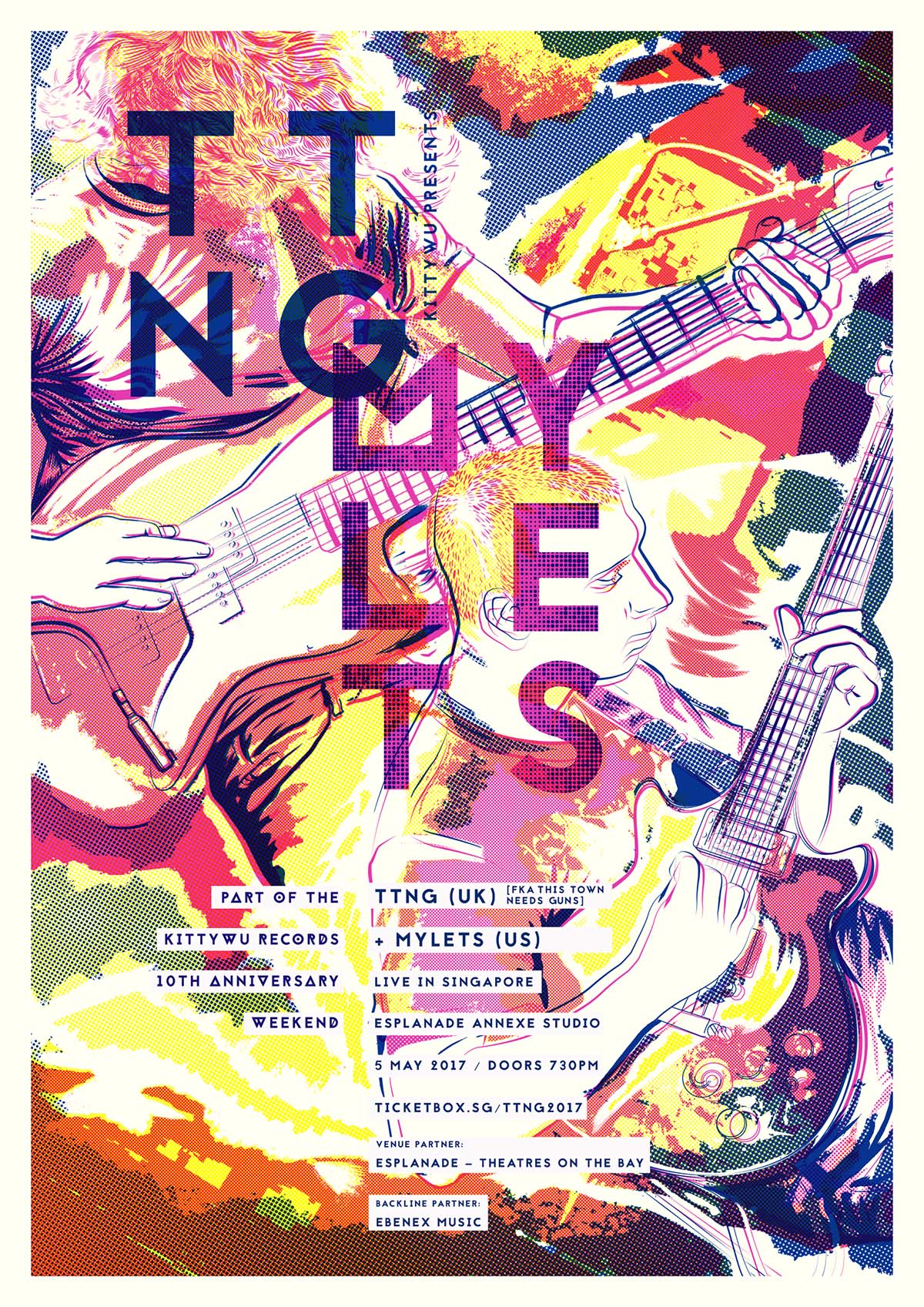 As part of our 10th Anniversary festivities, KittyWu Records is excited to present British power trio TTNG and one-man looped guitar prodigy Mylets in a one-night-only performance at Esplanade's Annexe Studio on 5 May 2017.
TTNG brings math rock to the masses every time they perform their technically jaw-dropping jams in concert. The stylistically diverse riffs of guitarist Tim Collins incorporate everything from jazz to flamenco, and his complex melodies interplay perfectly with the asymmetrical time signatures and polyrhythmic percussion of ace drummer Chris Collins. Forming the backbone of their intricate sound is bassist and singer Henry Tremain, whose unadorned playing and artful vocal melodies make the band's songs soar. All three are virtuosic players and performers, and seeing them execute complicated yet catchy favourites like "Sponkulus Nodge" and "Coconut Crab" is a serious treat for fans.
Mylets is the rad-rock alter ego of guitarist Henry Kohen. Kohen spent his formative years in rural Indiana, deep in the basement with an electric guitar and a lot of time. He's grown significantly since; moving to California in early 2013 to become Sargent House's artist in residence. He's toured extensively across the US and Europe with label mates TTNG, ASIWYFA, and Emma Ruth Rundle. As a live performer, Kohen is downright magical. He moves like a worker bee; dancing across multiple guitar pedals that line the stage, singing and laying down guitar loops while simultaneously tapping out beats on a drum machine. Nothing is pre-programmed. Every note played is as organic and fallible as its performer. Kohen's physicality and presence is captivating on stage, but what's even more impressive is that his songwriting talent is equally as vast and varied as his multitasking skills.
---
At the door on show day: S$70
All prices exclude ticketing service fee.